There's lots of fun things to see and do in Puerto Galera!
Although scuba diving is the major attraction in Puerto Galera, there are many other activities to enjoy whilst on holiday here. Whether you are looking for excitement or relaxation, there is something for everyone!
这个页面用中文
Beach Hopping and Beach Picnics
There are dozens of deserted beaches and coves around the shores of Puerto Galera and the nearby islands; Picture-perfect beaches of untouched white sand where you can feel like the only people in the world!
We'll arrange a boat to take you the best of these hidden gems, where you can enjoy swimming, snorkeling, suntanning and even a beach picnic.
Hidden Paradise, Tukuran Falls & Tamaraw Falls
For those who like to get outside and commune with nature, Puerto Galera offers the opportunity to trek amongst it's rich tapestry of tropical flora and fauna. Hidden Paradise also gives you the option to do some of all of the journey along the river in a traditional Karibo (oxen) drawn cart; an experience you will not soon forget!
Don't forget to pack your swimming gear, as the walk down the river ends in an idyllic natural pool and small waterfalls where you can cool off in the refreshing crystal clear waters.
Along the route to Hidden Paradise, you will pass Tamaraw Falls. Arguably the most popular day trip with tourists, the winding coastal road to Tamaraw falls overs some breathtaking elevated views across the ocean and Verde Island.
Click on an image to open Lightbox
Adventure Sports
The X-Treme Sports Philippines adventure park is perfect if you are looking for something to get your adrenaline going, and makes for a fun and exciting day out, especially good for large groups.
They offer Mud Kart and ATV rides on their jungle track, Go Kart racing, Paintball, and a Crossbow and Airgun range and the new craze, Archery Tag. All of the activities are very reasonably priced, so you're guaranteed to get plenty of bang for your buck!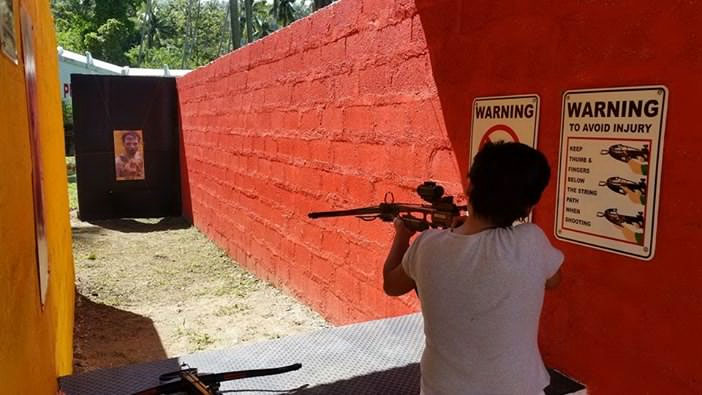 Motorbike & Scooter Rental
If you fancy the idea of exploring Puerto Galera by yourself, why not hire a scooter or motorbike and take a ride out to some of the other nearby towns and villages?
There are 125cc automatic scooters available (good for beginners) and more powerful 200cc Enduro style bikes for those looking for something with a bit more 'go'
Just please keep your eyes open. Some of the roads are very narrow with tight corners, and you will often find chickens, dogs, goats and even cows venturing out into the road. Safety first!
Massage & Spa
Imagine a gentle massage for two or three hours on the sandy beach accompanied by the sound of waves breaking gently in the background.
You decide whether to get it on the sandy beach, your room, or wherever you want.
If you want several hours at one time the locals are also usually willing to bargain about an even better price.
Just ask one of the friendly Scandi Divers staff to arrange your personal massage in your room, on the beach or in a local spa.
The Spas offer a wide variety of services, including many different styles of massage, skin care treatments, manicures, pedicures and more. Perfect if you feel like being pampered!
Golf
Ponderosa Golf Club is tucked away high on the mountainside, about a 30 minute drive from Sabang.
The club features an unrivaled view of Puerto Galera and the surrounding islands, and you can even see clear across the channel to the mainland!
The 9 hole golf course is something unique, in the fact that it is surrounded by dense jungle, and has a reputation for being a fun challenge to your short game.
Clubs and equipment can be rented, and drinks and snacks are also available.
Don't forget to take your camera to capture those incredible views!
Kayaking
There are miles of beautiful coastline near Puerto Galera that just beg to be explored by kayak. You can rent kayaks and go exploring for the day, and seek out your own little deserted beaches to rest on.
We can also take care of packing the kayaks with food and drinks so you can be self sufficient for your kayak trip. Remember the sunscreen!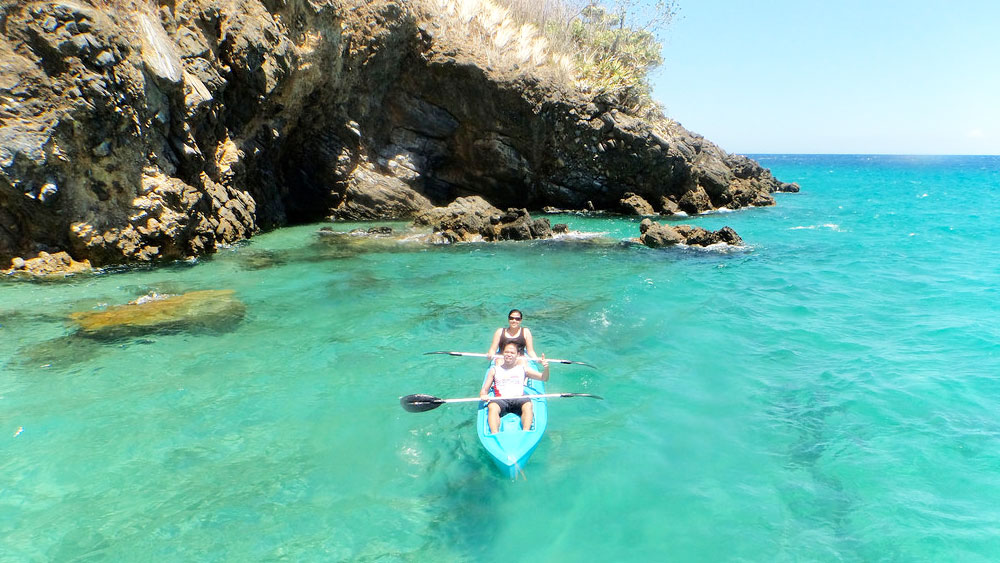 And what about the kids?
It's also worth mentioning that the Philippine people are extremely child friendly, so children can have a great stay here. The unfamiliar surroundings invite them to explore the world at all levels.
Big La Laguna Beach, where our resort is situated, is one of the most child friendly beaches in the area. Away from the hustle and bustle of Sabang, our quiet beach gets little traffic, and the shallow waters along the shoreline are perfectly safe for your little ones to swim in.
It's also easy to arrange for childcare if you need a little room to yourself, just ask one of our friendly staff to assist you.
Snorkeling (at least once!)
The waters directly outside our resort are rich with hard and soft corals, as well an abundance of marine creatures. Big La Laguna bay is regularly visited by turtles, so keep your eyes peeled!
If you would like to go further in your explorations, just ask us to arrange a small banka to take you around to some local snorkeling hotspots.
Discover The Culture Of The Mangyans
The Mangyans are the original inhabitants of Mindoro. They are nomadic, and they try to avoid outside influences as much as possible. As the years went by, they gradually moved away from other settlers; whereas they used to live by the sea, they have now settled in mountainous the areas.
You need a guide to visit their village so that you will be given a warm welcome. The Mangyans are very shy, but take them a simple gift of rice or other food stuffs and they will be delighted to share their culture with you.